1A Backflow & Services provides backflow prevention testing and service to all customers, commercial or residential property.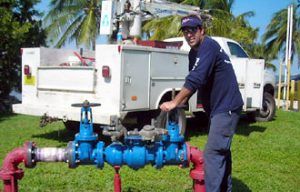 Here are the steps normally involved in having your backflow(s) tested and inspected:
Respond in a quick professional and timely matter when called or scheduled upon.
Determine if any water service will be affected to the property while testing.
Flush device and connect a testing gauge for accurate readings by a licensed certified and insured technician.
Complete and issue a successful certification(s) report to the customer upon a passing or failed inspection.
Submit certification report(s) to the proper municipality for compliance.
Record report(s) on database and follow up with the customer 2 weeks prior to expiration testing date for the following year.
. . . . . . . . . . . . . . . . . . . . . .
! IMPORTANT NOTICE!
Backflow certification report(s) are only valid for 1(one) year from date of test. Re-certifications and inspections must be performed according to State of Florida and local governmental codes at least (annually) once a year.